Sustainable Winegrowing Australia
Sustainable Winegrowing Australia (SWA) is Australia's national program for grapegrowers and winemakers to demonstrate and continuously improve their sustainability in the vineyard and winery through the environmental, social and economic aspects of their businesses.
The program takes a holistic approach to managing, supporting and promoting sustainability. It fosters stronger relationships between growers, wineries and their regions. It also provides authority and confidence to customers, who receive reliable certified produce to address growing global consumer demand.
SWA is a voluntary program designed with flexibility to suit the changing goals and needs of all Australian grape and wine producers. It informs and contributes to the identification of priorities for wine industry research, development and extension activities and can be used by members for benchmarking.
The program is administered by the Australian Wine Research Institute with governance, endorsement and active support from Australian Grape & Wine and Wine Australia. The program is modelled on global best practices and aligned to the United Nations Sustainable Development Goals, with progress towards these monitored annually.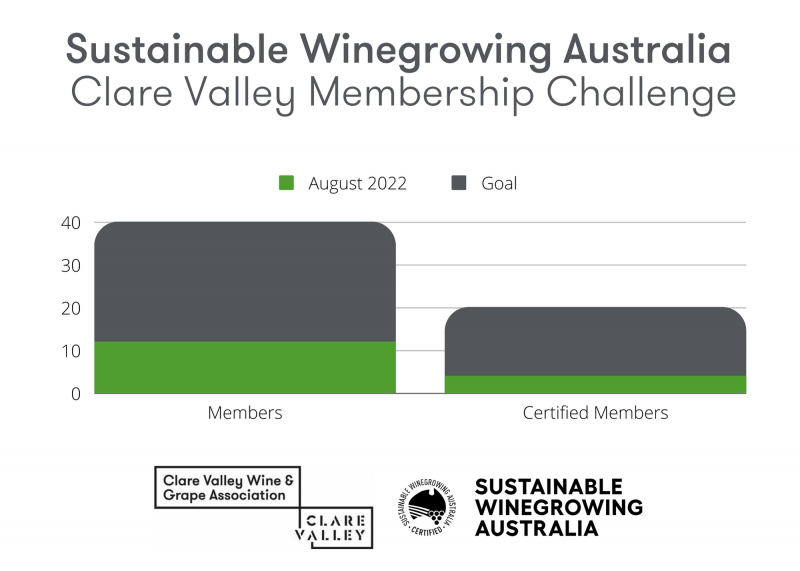 Support Program
Over the past 4 weeks, more than 40 Clare Valley Wine & Grape Association members have indicated that they are interested in joining Sustainable Winegrowing Australia (SWA). This fantastic response illustrates a regional commitment to record, benchmark and promote sustainability and the Association is excited to launch its program to support the adoption of SWA by our members.
The Association in partnership with the Northern and Yorke Landscape Board are offering members highly subsidised training and on-going support to help both grower and winery businesses achieve SWA membership or certification.

Joining is easy and membership is available to all grape growers and wine producers. Vineyards and wineries must hold separate memberships because the data provided by each part of the business is different.


Membership Types
Members

Members of Sustainable Winegrowing Australia must annually report the Sustainable Winegrowing Australia business metrics and complete the self-assessment workbook. Members do not require an independent audit. Becoming a member of Sustainable Winegrowing Australia and is a pathway to becoming a certified member. Annual fees: $110 per site, whether vineyard, winery or wine business.
Certified Members
Certified members of Sustainable Winegrowing Australia choose to be certified by undergoing an independent third-party audit (every three years) against the approved certification standards for viticulture and wineries. Fees: Certification training costs $460, and independent audit $1200-$2000
Key Dates
Today: Register business details -https://member.sustainablewinegrowing.com.au/answers/details/create
Before 31 August: Complete membership (workbook, data metrics, payment) to qualify for certification for vintage 2023
Before 7 September: Complete membership (workbook, data metrics, payment) to participate in Clare Valley certification training session
8 September: Clare Valley certification training session
Next Steps
Register your business details online – REGISTER TODAY Follow this link to begin your SWA membership
Wait for approval of registrations and receive login details from AWRI (approximately 48 hours between registration and approval)
Complete workbook online
Complete data metric online
Pay membership fee of $110.
Pre-requisites for Membership
The Australian Wine Industry Standard of Sustainable Practice (AWISSP) Freshcare training is not designed to be an entry level course, so the baseline is that people are already members of the program and understand the requirements. If you are completely new to SWA, it is recommended that you complete the pre-requisites and view the pre-training resources, including viewing the Sustainable Winegrowing Australia update - YouTube. It is also suggested to:
Print or draw a property map of your site (this will be used in Session 1 as part of the sustainability action plan & property map)
View the Electronic training materials
The training is geared around preparing members to become certified and undergo an audit. If you need assistance, we will be offering a support program with more information to be announced soon.

Note: SWA membership is a prerequisite for certification training.
Freshcare Certification Workshop
We are pleased to confirm the date for the Australian Wine Industry Standard of Sustainable Practice (AWISSP) Freshcare certification training session on:
September 8, 2022 from 9:00am to 4:30pm at the Rising Sun Hotel, Auburn.
Thanks to funding from the Northern and Yorke Landscape Board, the Clare Valley Wine and Grape Association is pleased to offer subsidisation of this training session from $460 down to $110 (including GST).

Please note, you will need to be signed up as a member and have completed your workbook before this workshop. Attendance at the training session is mandatory to achieve certification. If you can't attend this date, you'll need to call Anna on 0417 817 776 to discuss alternative options.
There is a limit of 25 participants for this training sessions.
Becoming Certified:
Requirements to be certified by Vintage 2023

If your aim is to be certified by Vintage 2023, you will need to have completed membership requirements of the data/workbook and made payment by August 31. After this date, you will be working towards certification for Vintage 2024

Certification audit
Book audit with Freshcare auditor
CVWGA will help negotiate discounts and coordinate audits where possible.
Successfully complete audit to attain certified membership
Support program for completing certification & membership:
If you would like some assistance to complete your membership and workbook, we will be offering a practical, supported session where you can bring your laptop and ask questions as you go, details to be announced soon.
Take up the level of support you require to work towards the Freshcare certification and membership workbook
Support program calendar to be released soon!
The CVWGA in partnership with the Northern and Yorke Landscape Board are offering members highly subsidised training and on-going support to help both grower and winery businesses achieve SWA membership or certification
Read more